UFC 285 will mark the first time a UFC heavyweight champ won't be able to claim he's undisputed. This is a result of UFC's failed negotiations with Francis Ngannou, who is their 18th lineal champion in a line that traces back to UFC 1 and Royce Gracie.
There's been a lot of talk about UFC 285, and especially the main event between Cyril Gane and Jon Jones.
Jon Jones became the youngest UFC champion in 2009, at age 23 and has been working on his martial arts ever since. Jones currently holds the rank of purple belt in BJJ, and trains out of Gracie Barra New Mexico.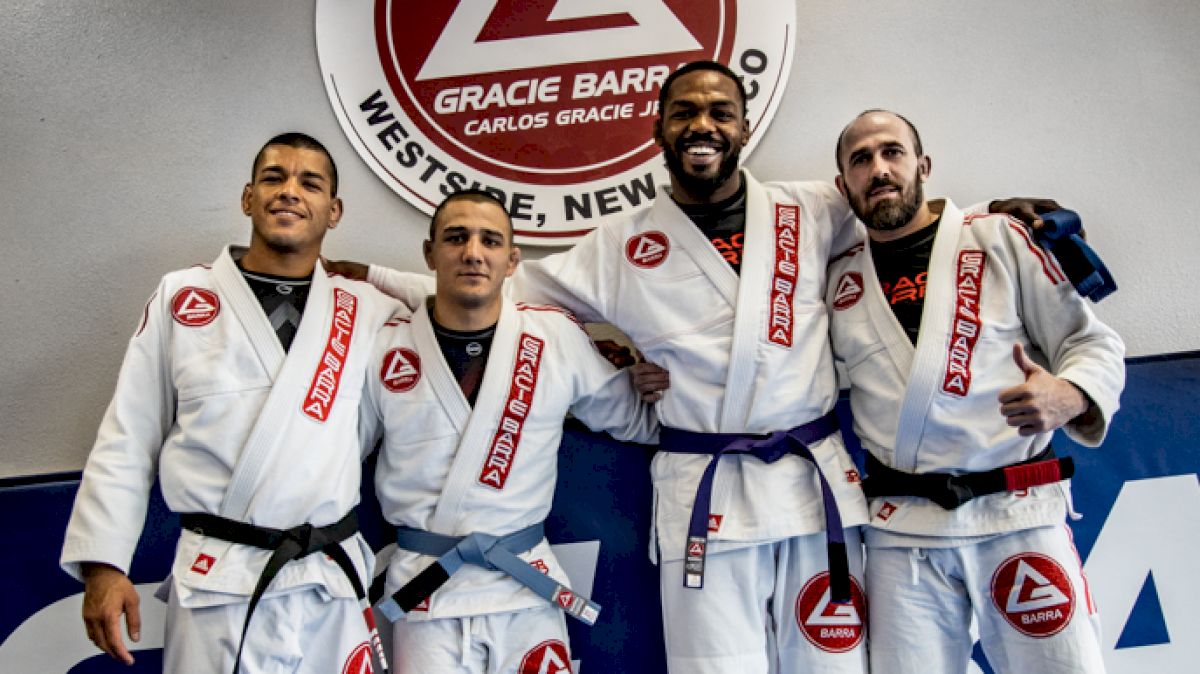 Jones hasn't been spotted with his coach Roberto Tussa Alencar since September of 2020 after an unfortunate police report led to Jones getting exiled out of his longtime gym, Jacksonwink.
While he still wears GB spats, it's unknown if he's still employing Alencar.
How good is Cyril Gane's BJJ?
His opponent, Cyril Gane comes from striking background, and he is known for his impressive footwork, movement, and technical striking ability. In addition, Gane is also a former Muay Thai champion, which further highlights his striking prowess. But he has a real knack for picking up BJJ as evidenced by his heel hook UFC victory over Don'Tale Mayes.
Heel hook attempt ended up costing him greatly against Francis Ngannou in January of 2022.
Ngannou's coach confirmed they were aware of the plan to attack heel hook on Ngannou.
Tristar's Firas Zahabi went so far as to call it 'worst error in championship history':
"He drops back for a leg lock. Now listen, I'm a leg locker. I have a T-shirt that says 'leg-lock everybody'. I'm a leg locker, guys. I love it. But it was the wrong time to do a leg lock. If I was his trainer, I would've been furious. I would have been calling [for him] to stay on top. Do not try to leg lock."
What's the perfect outcome for Cyril Gane at UFC 285?
Gane told Skysports:
"The perfect day that I'm going to I'm going to do some takedown on Jon Jones. And I'm going to submit him in the first round."
The 'perfect outcome' for Gane would be submitting Jon Jones in R1 at #ufc285 https://t.co/Uq0OkPuAwC

— calfkicker (@calfkickercom) March 2, 2023
Jon Jones has been keeping up with the professional jiu-jitsu scene indicating that he's likely brushing up on his heel hook defense mechanics. He publicly left a comment on a Gordon Ryan post praising both Ryan and Nick Rodriuez for the attention their feud has brought to professional BJJ.
John Davis is a dedicated practitioner of Brazilian Jiu-Jitsu, having first started training in the martial art in 2011. Despite facing significant knee issues that have sidelined him for a period, John remains passionate about the sport and continues to follow all the latest developments in the BJJ community.