Craig Benjamin Jones was born in Adelaide, South Australia, on July 17, 1991.
Growing up, Jones was a highly active child who participated in a wide range of demanding sports, including basketball and Australian rules football. He also briefly trainedtaekwondo and judo.
Additionally, Craig took to mixed martial arts  as a youngster and had dreams of competing in the UFC.
Jones began training Brazilian jiu-jitsu in 2006 at the academy run by his cousin. Following the promotion of his purple belt, Jones relocated to Melbourne and began training with Lachlan Giles. He remained there until Giles promoted him to black belt.
Jones earned gold in the NAGA World Championship and the AFBJJ Pan Pacific Championship in 2014 while competing at the purple belt level.
The following year in 2015, Jones earned a spot in the 2015 ADCC World Championships. It is a submission grappling competition known as the "Olympics of grappling." The event is held every two years.
Jones lost the ADCC World first round against Romulo Barral via submission. However, he won the IBJJF World No-Gi Championships in the purple belt class. Jones became the first Australian man to win an IBJJF world title.
Jones earned bronze in the brown belt class in the Abu Dhabi World Professional Jiu-Jitsu Championship a year later, in 2016. Giles then promoted Jones to black belt in 2016 when he was still training at Absolute MMA Academy.
Jones once again qualified for the ADCC World in 2017. This time, Jones submitted five times Black Belt World Champion Leandro Lo, Unity BJJ coach Murilo Santana, and Chael Sonnen.
Jones then won a silver medal at the ADCC Championship in 2019.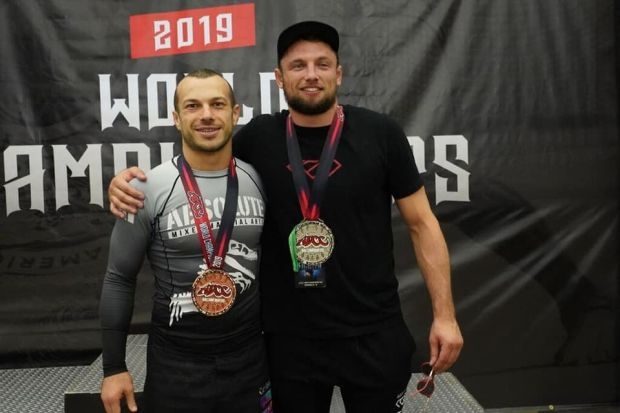 A few months later, Jones relocated to New York to train under Gordon Ryan and John Danaher. During the COVID-19 epidemic, Jones relocated to Puerto Rico with the rest of the squad to complete their preparations for competitions.
Jones has worked closely with coach John Danaher and was a significant part of the renowned Danaher Death Squad from the late 2010s to early 2020s.
In December 2021, Jones defeated UFC veteran Donald Cerrone in a Combat Jiu-Jitsu superfight at the Combat Jiu-Jitsu Featherweight World Championships via rear-naked choke.
In July 2021, the team that Danaher was training disbanded. The former members of the team went their separate ways.
Along with Nicky Ryan, Nicky Rod, and Ethan Crelinsten, Jones relocated to Austin, Texas, to start a new team. The new team was named B Team Jiu-Jitsu, and this is where he still trains today.
After switching to the -99 kg class in 2022, Jones won silver at the ADCC once more. He did this by defeating three-time World Champion Nicholas Meregali in the semi-final. However, he lost to Kaynan Duarte via points (4-0).
Craig Jones is the BJJ coach of UFC featherweight champion Alexander Volkanovski. On The Return of TUF: Team Volkanovski vs. Team Ortega, he also acted as Team Volkanovski's BJJ coach.
On June 29, 2023, Jones and Felipe Pena squared off in the main event of UFC Fight Pass Invitational 4. He won the match in overtime by fastest escape.
Craig Jones has a Bachelor's degree in Behavioural Science (Psychology). He also has an account on OnlyFans and has been on a number of well-known podcasts, including The Joe Rogan Experience and InfoWars with Alex Jones.
After succeeding in a number of major competitions, Craig Jones is now considered to be one of the finest grapplers of his time.